Photo
Entered on: October 10, 2005 12:00 AM by BigFatty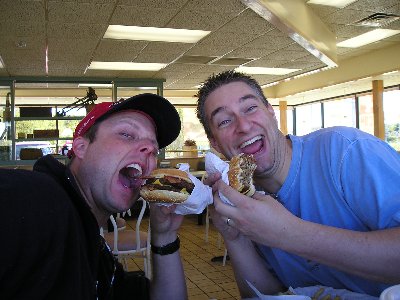 Jack and I are back from our adventure up north. The great white hunters took a side trip when our paths crossed a Hardee's. There, Jack threw down the gauntlet and challenged Fatty to a Monster Thickburger. See: http://www.jackassery.com/viewcomments.jsp?type=pho
to&id=156#1432.

It is a very good burger, but a little much on the beef - 2/3 pound. There are bigger burgers out there, but this one just borders on sanity. Not many people could finish one of these. Our verdict - The THUMBS!
PHOTO 216 - 2 Comments

It definately IS A TASTY BURGER!

And there's no vegetables here. Just 2/3 pounds of beef, a few strips of bacon and slabs of cheese. Upon finishing the bovine buffet, Fatty proclaimed, "I've had my fill of beef." True dat!


"Adventure up north"? Were you hunting wabbits?

Hardee's scares me, by the way.